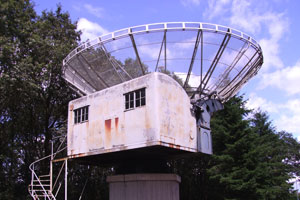 An original Würzburg Riese antenne is present at the Planetron Dwingeloo.
(Foto: René Ros, 2010)
Colophon
© 2003-2023, René G.A. Ros
Published: October 8th, 2002
English translation: April 17th, 2003
Last update: December 7th, 2021
The Dutch Copyright law of 1912 and the Datacollection law 1999 apply to this website as a publication, protecting the rights and interests of the author and others involved. Nothing of this publication may be replicated and/or made public by means of digital methods, print or in any other way, without written permission of the author.
People who contributed to our website, by providing information for example, did so on the assumption their contribution would not be commercially exploited. Commercial use of this website is therefore only allowed with prior permission
If hyperlinks or similar are used to reference pages on this website, the pages must remain recognisable as such.
The Disclaimer and Privacy-statement of the Documentation Centre Defence Line of Amsterdam are applicable for this website.
Do you want to make comments regarding this website? Or do you have additional information or pictures?
Then please use our Questions & Feedback form.
Sources
This website is compiled by René Ros, based on information provided by:
Michel van Best
Klaas van Brakel †2009
Mr. P. Grootendorst, eye-witness
Guus Kroon, Historical Archive Muiden
Gerlof Langerijs, free-lance researcher
Mr. John Makkinje, eye-witness †2013
Mr. L. Schulp, eye-witness †2020
Dick van Zomeren, historian and writer about the history of Weesp
also used as source:
This website is provided by private experts and is not a government site.
Use by commercial parties only with prior permission.