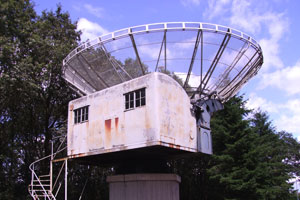 An original Würzburg Riese antenne is present at the Planetron Dwingeloo.
(Foto: René Ros, 2010)
Colophon
© 2003-2020, René G.A. Ros
Published: October 8th, 2002
English translation: April 17th, 2003
Last update: September 3rd, 2019
Do you want to make comments regarding this website? Or do you have additional information or pictures?
Then please use our Questions & Feedback form.
This website is compiled by René Ros, based on information provided by:
Michel van Best
Klaas van Brakel †2009
Mr. P. Grootendorst, eye-witness
Guus Kroon, Historical Archive Muiden
Gerlof Langerijs, free-lance researcher
Mr. John Makkinje, eye-witness †2013
Mr. L. Schulp, eye-witness
Dick van Zomeren, historian and writer about the history of Weesp
also used as source:
This website is provided by private experts and is not a government site.
Use by commercial parties only with prior permission.